In the hospital, every second counts, and every decision made in those seconds may result to someone's respite, or immediate demise.
It takes mental fortitude and acuity to provide lifesaving, critical care. In a matter of moments, a misdiagnosis, or treatment done in haste and uncertainty can cost one more than "simple learning".
It's easy to say that the best way to learn is through experience, but it should not come with a cost, especially when it interferes with a patient's safety and well-being. Not only that, even the fear among students to cause undue stress or harm greatly affect one's ability to learn.
This is especially detrimental in basic, yet essential procedures wherein it is only mastered through repetitive experience and training.  Even in highly specialized fields like, anesthesiology and critical care, it is only through experience where you can develop the level of fastidiousness in noticing miniscule changes throughout an operation or stay of a critical care patient.
Dr. Larry King has been long aware of what Thomasian medical education is, for even before graduating as part of Class '90, he was a medical technology graduate from UST. This had certainly given him an edge in medical school as it was not to be his first time stepping into the hospital.  Some procedures his classmates were just trying to learn, he was already capable and licensed to do. Although, even with his prior knowledge and experience, there was still a gap he experienced as a clerk.
So how can we bridge theoretical learning and clinical skills?
Dr. King, a sought-after anesthesiologist and critical care medicine practitioner, still remembers the time he and his groupmate first stepped in the hospital as clerks in their newly minted clerk uniforms, confidently armed with three years' worth of theories and concepts. However, this confidence soon waivered when his groupmate was asked to "exchange position, back-to-back", she simply just stared (in terror) while assisting one of the top obstetricians in the country. The whole class broke into laughter when she was reaching for the retractor while pushing her back against the OB. Dr. King still remembers how his groupmate felt like the most stupid clerk then.
"This would not have happened if we already had the simulation laboratory back then", Dr. King remarked.
Dr. Larry King is well-respected in the field of critical care, his practice of anesthesiology does not simply confine him in the operating room. A loyal Thomasian doctor, he took up his internship and residency in UST Hospital. Soon after his fellowship in Surgical Intensive Care at Singapore General Hospital, Dr. King held key positions in several hospitals and organizations. He is currently part of the Board of Examiners in the Philippine Board of Anesthesiology. Dr. King has also spearheaded several new programs in UST-FMS, which includes the establishment of the Learning-Enhanced Accelerated Program for Medicine (LeapMed). A program that is focused on basic human sciences than any existing premedical courses and highly competitive as it  allows students at a little over two years to be formally admitted to the Doctor of Medicine program.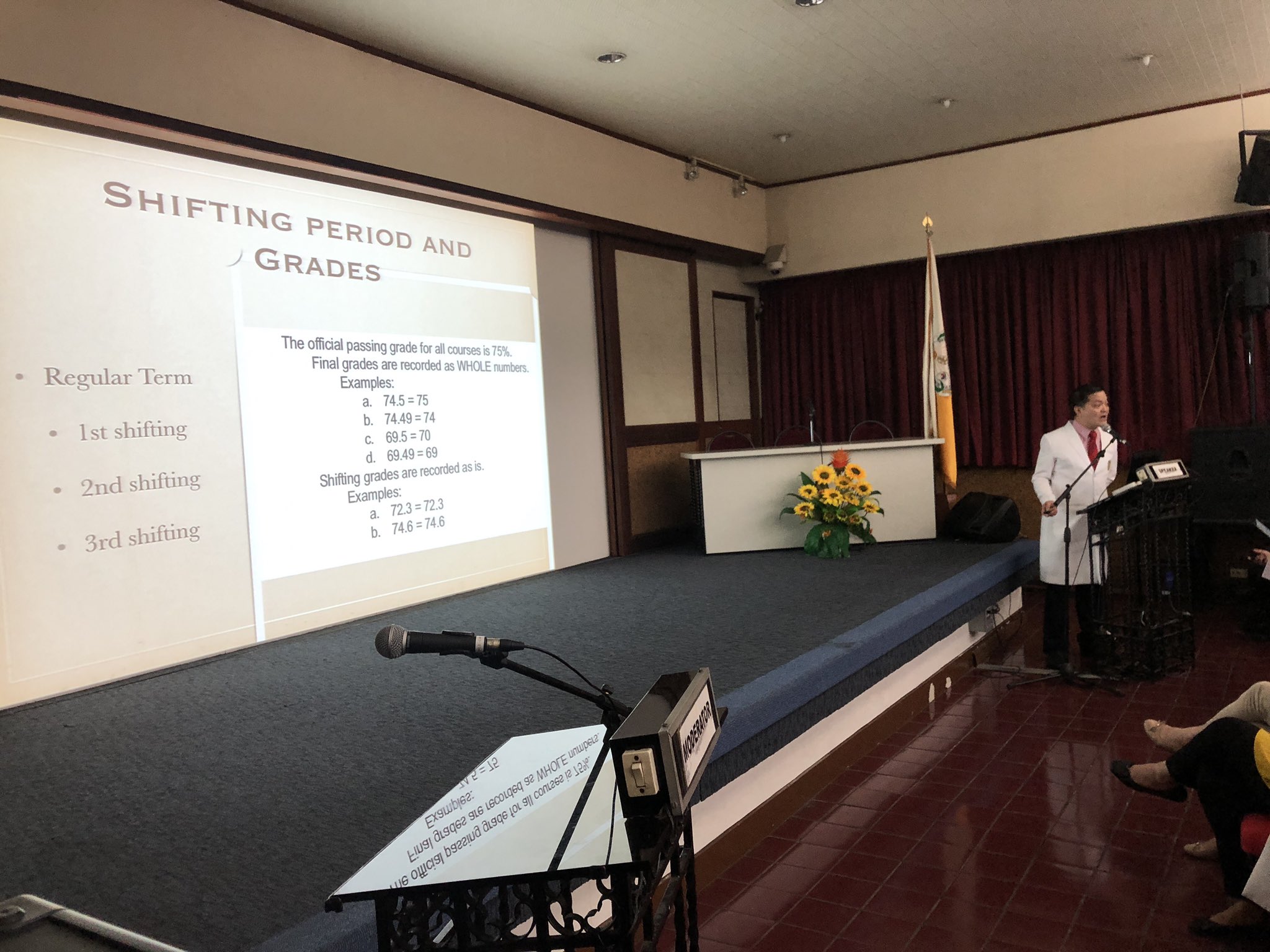 Dr. King explains the grading system and orients the LEAPMed students regarding the USTFMS protocols
(Credit by: UST Medicine Council)
Aside from this, Dr. King has been a key figure in UST-FMS Life Support Training Center (LSTC), he was the coordinator for the Basic Life Support (BLS) and Advanced Cardiovascular Life Support (ACLS) from 2010 to 2012. He was later appointed as the International Training Center Coordinator, and almost simultaneously appointed by the American Heart Association as the Regional Faculty in the Asia-Pacific Region.
AHA Heartsaver First Aid Course at the Embassy of the Kingdom of the Netherland (2018)
(Credit to UST-FMS Life Support Training Center)
For the last few years, the UST-FMS LSTC has been lauded by the AHA for its achievements, leading several trainings in the Asia-Pacific Region. The Center has also received personal acknowledgement from Mr. Robert Wales, the international program development manager of AHA, and subsequently receiving a special award for the Center's role in disseminating these life-saving lessons. This is credited to simulation learning used in all its courses. As early as 2009, the Center's proven track record has allowed its expansion from providing BLS to its recent addition, Airway Management Course- which then FMS Dean, Dr. Jesus Valencia, sought to expand the success of this Center to bigger and wider scale.
3rd Year Medical Students of UST AHA BLS PROVIDER'S COURSE (2018)
(Credit to UST-FMS Life Support Training Center)
With his expertise, Dr. King has led this initiative by visiting top medical schools, including the National University of Singapore, as early as 2017. The Sts. Cosmas and Damian Simulation and Research Center has undergone several changes, as consultations he did to other medical schools have resulted to an improved and at pace technological advancements. In addition to leading the Simulation Laboratory project, Dr. King also has an active role in the fundraising committee.
Of the seven floors of the St. Cosmas and Damian Simulation Laboratory and Research Center, three floors have been dedicated solely for simulation learning. There are model intensive care units, wards, clinics, and operating theater that is designed not only to mimic but simulate what truly happens in each setting. Each of these specialized rooms are equipped with state-of-the-art low, medium, and high-fidelity manikins; not only will these manikins be able to simulate several scenarios, but difficulty level may also be adjusted to a student's capability. There will also be cameras that allow recording and active monitoring from the control room allowing students and teachers to have an in-depth review of improvements can be made even after simulation. A one-way mirror allows the additional learners to watch ongoing procedures, thus increasing awareness by simply observing.
One may argue that nothing beats clinical experiences with real patients, however, this is not meant to replace that, it is simply to supplement, bridge a student's knowledge to clinical skills.
As the celebration of the sesquicentennial of the Faculty of Medicine and Surgery continues, preparations must be done to expand horizons in preparation for the next 150 years-- there is no time to waste.